Functioning with precision, the Apollo Pro V is a gorgeous indoor rower that is guaranteed to turn heads and leave others green with envy. Complete with a hand lacquered American Ash woodgrain finish for the ultimate lavish-factor, the Apollo Pro V enhances any grand environment. Whether placed in a commercial or quality home studio, this ruggedly designed rower never disappoints, meeting its demands with ease. Flawlessly reproducing the natural catch and consistent resistance of on-water rowing, the Apollo Pro V provides a sensory workout amplified by the sight and sound of water churning through its mesmerizing tank. Packing a punch with 5 x Fluid Force and 15% greater resistance than standard FDF horizontal models, the Apollo Pro V is the perfect rower for anyone seeking solid progression.
You don't have to be a pro-athlete to reap the benefits of the Apollo Pro V design. Bluetooth auto-adjust technology automatically correlates chosen tank resistance in-sync with the console display, ensuring accurate data collation for a more efficient workout. Enjoy smart device connectivity, compatible with FDF's social app for meticulous record-keeping and competitive progress tracking. The Apollo Pro V will never discriminate against fitness ability – from a casual user through to elite athlete status, this model is so adaptable that anyone can benefit. For the less able, the Apollo Pro V can be paired with FDF's Seat Back Kit for maximum lumbar support or Elevate Kit for a conveniently higher entry and exit point.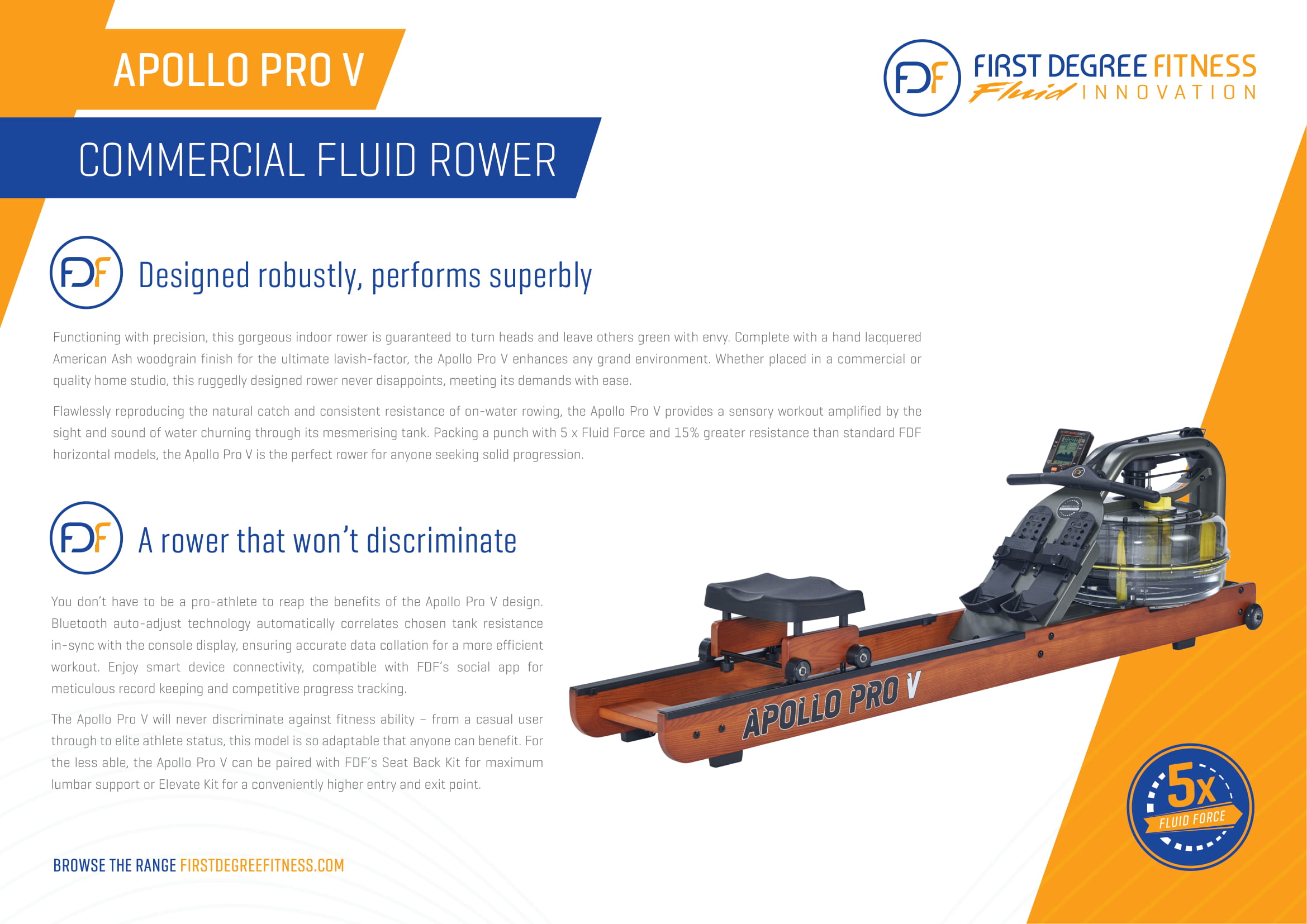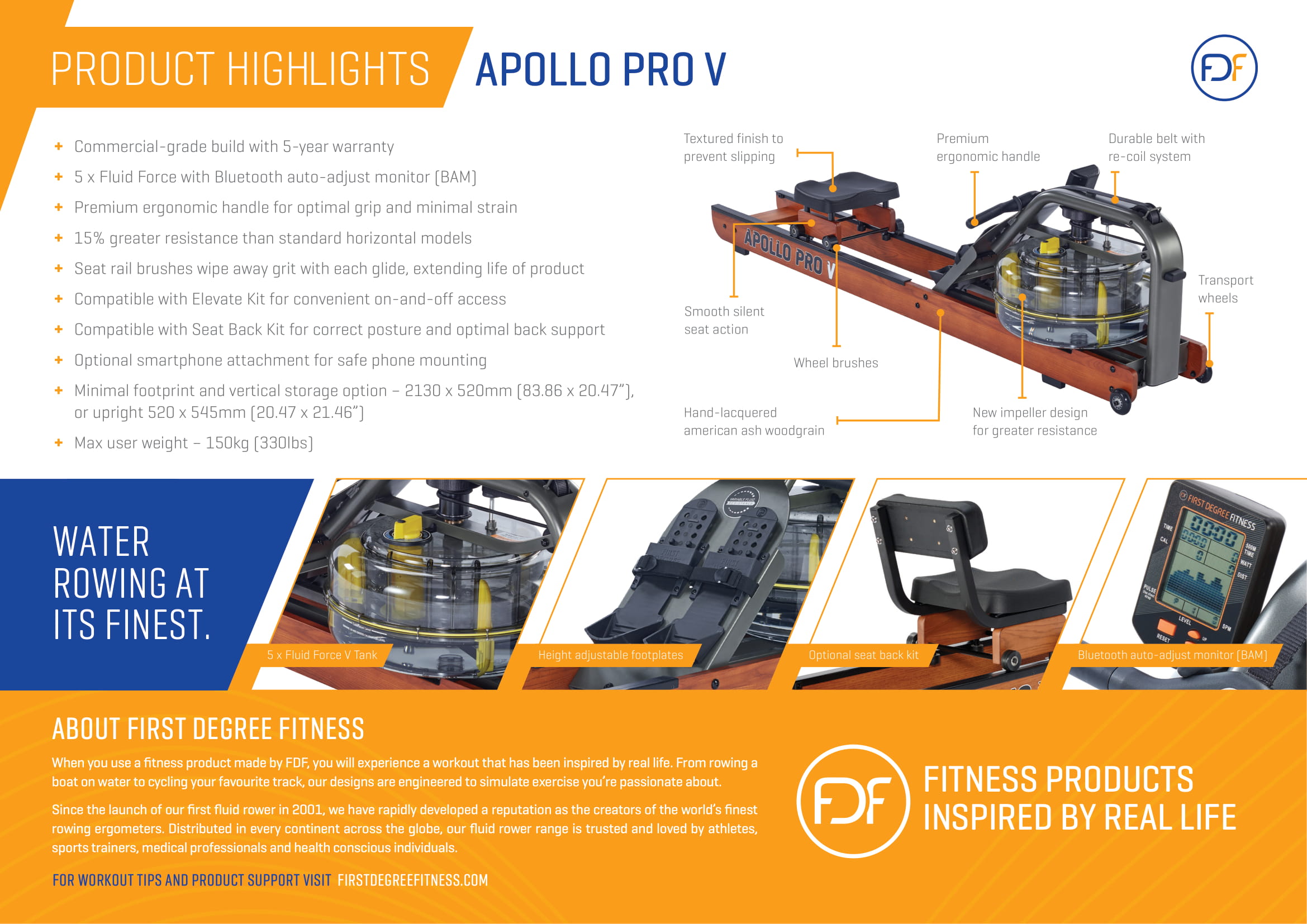 ---
DIMENSIONS
---
Apollo Pro V Features
Apollo Pro V Tank
5 x Fluid Force with Bluetooth auto-adjust monitor (BAM)
Adjustable Fluid Resistance, from feather-light to Olympic sprint at the turn of a dial.
No dead spots. Unique triple bladed impeller and baffled tank internals deliver instant catch and consistent resistance throughout the whole stroke.
Apollo Pro V Monitor
Bluetooth enabled multi-level computer. Display shows: time, distance, 500M split time, strokes per minute, calories per hour, watts and heart rate.
Apollo Pro V Footboard
Height adjustable footplates and straps to ensure optimal foot placement and comfortable rowing position.
Apollo Pro V Handle
Durable belt drive with active recoil system – smooth, clean, quiet and again maintenance free.
Deluxe ergonomic design allows a comfortable grip and minimized strain on forearms, wrists, and hands.
Apollo Pro V Frame
Formed powder-coated steel & aluminum head frame with exquisite Ash body.
Simplified assembly in less than 15 minutes and virtually maintenance-free.
Apollo Pro V Specs
Upright Storage – 53 x 51cm (21 x 20″)
Product size – L (84″) x W (20″) x H (21″)
Max User Weight – 150kg (330lb)
Product Weight- 68lbs
---
How Does FluidRower Twin Tank Technology Work?
At the core of all FDF FluidROWERS is our patented Twin Tank technology, providing several distinct levels of Fluid Resistance regardless of the speed you row at. Our Twin Tank technology comprises the inner, passive (or holding) tank and the outer, active (or resistance) tank.
When you select a high level, water will flow from the passive holding tank to the active resistance tank as you begin to exercise, and you will experience the smooth fluid resistance, no matter what your speed.
Conversely, if you select a low level, the water will be transferred away from the active resistance tank and back into the passive holding tank, lowering the resistance. You can even make adjustments on the fly to find a load that is just right for your fitness training.
Depending on the FluidRower model each will incorporate either a 4 or 5 level adjustable Fluid Resistance Horizontal Tank. The Maximum resistance on Level 4 or Level 5 is the same; the only variation is the resistance increments between the levels. Level 4 or 5 FDF Horizontal Twin Tanks each has 17 litres of Fluid Resistance available.
Level 1 – 20% / level 2 – 40% / level 3 – 60% / level 4 – 80% / level 5 – 100%
FDF's patented adjustable Fluid Resistance technology creates a challenging rowing workout for any fitness level. It allows the user to change the rowing resistance by a simple adjustment of the lever to your desired level, even mid-workout. The level of resistance can vary from feather light to Olympic challenge. Whether you are just starting your fitness journey or you are a professional athlete, our fluid resistance rowers have been designed and engineered to provide a challenging, smooth, full body workout that can be adjusted to suit your training requirements.
The water in our active resistance tank acts as a brake to hold back the multi-bladed impeller, the more water in the active resistance tank the higher the braking effect. The water in the active tank isn't all staying in the active tank during the exercise (at any level), some of it is always being cycled through the passive holding tank. As you attempt to generate more power by increasing your speed, the water cycles faster between the Twin Tanks at a greater and greater rate to maintain a consistent amount of water in the tanks. This creates such a unique smooth action and at virtually any speed.
Air resistance works in a similar way, however the variation in the load that is possible by restricting air flow to an impeller does not create distinctly different levels of resistance, this is very obvious at low speeds.
At high speeds, the two mediums, water and air, start to feel similar except for one very crucial difference that makes adjustable Fluid Resistance so unique. When rowing, the drive phase is followed by a recovery phase, during the recovery phase air does not provide the braking force that the water in our tanks does. At the catch or beginning of the next drive phase, the air machine impeller has higher momentum and that creates the soft or no load pick up that you feel at the catch.
Essentially the resistance on an air machine can not be felt again until your speed catches up to the flywheel and you start to apply a greater force against which the air will resist. These differences are so easy for you to test for yourself, compare an FDF FluidRower against any air or water based rowing machine and you will quickly see why our patented Twin Tank Fluid Resistance system is so different; the firm catch, the smooth stroke and the consistent load, that all come together in the FluidRower.
---
INTERNATIONAL WARRANTY – COMMERCIAL USE
Main Frame – 5 Year Warranty
Polycarbonate Tank & Seals – 1 Year Warranty
Mechanical Components (of a non-wearing nature – 1 Year Warranty
All Other Components (of a wearing nature) – 1 Year Warranty